Opening hours:
Fri. 4pm – 8pm
Sat. – Sun. 1pm – 8pm
Wiesenstr. 55 | 13357 Berlin-Wedding
FARBFORSCHER – FÄRGFORSKARE
continues with
VIKTOR ROSDAHL
JENSEITS
1.9-24.9.2023
Opening 1st September 6pm – 10pm
Artist Talk and Video Performance from LINEA 8pm
"Once, an optician told me that my eyesight doesn't change significantly and hasn't deteriorated; rather, with each adjustment, we draw closer to determining the precise strength required. Although I can't vouch for the veracity of that statement, I find resonance in contemplating my artistic process through a similar lens, that even if motifs can change, it is just another way of focusing in on a theme and thread drawn out of a personal necessity as well as curiosity of exploration…
I sometimes get the sensational hallucination of the world as it perhaps would seem stumbling across it for the first time, traveling from another time and place in the universe. They both hold in common a nexus of forces that are larger than any individual can stand up to, just as the firm hands of the security guards in the subway, slowly encircling their victim before you feel their firm hands gripping your arms. Like Josef K, you are led away from your chosen path into a swarming labyrinth that is your day-to-day life, far from the wuthering heights the mind so recently strayed towards. Amidst the realm of materialistic kitchen-sink realism that characterises the studio floor, where jars of suspect liquids are accidentally spilled and you find yourself on your sore knees trying to mend, a sudden glimpse of a worn-out cloth used to wipe the brushes and what not, may still lift the spirit up towards it former glance and give guidance towards a well-known but still forgotten path."
Viktor Rosdahl, Malmö 2023
Our focus this year is on
SWEDISH PAINTING IN BERLIN 
Sunday 24.09.2023 20:00 
Chess Music
Guilherme Rodrigues – Cello
Jung-Jae Kim – Tenor Sax
Stephen Flinn – Percussion
Axel Dörner – Trumpet
Join us at the captivating intersection of art and music in our gallery, where each note is a move, and every melody a strategic choice.
Immerse yourself in the dynamic interplay of sounds, just like a game of chess.
Get ready for an evening of musical brilliance that will keep you engaged and enthralled. Mark your calendar and witness the masterful fusion of creativity and spontaneity.
Dreamworkshops
'Empowered Writing'
12th | 19th | 24th October 2023 | 7pm-10pm
A project organised by Nellie Nickel
Workshop leader: Alex Gastel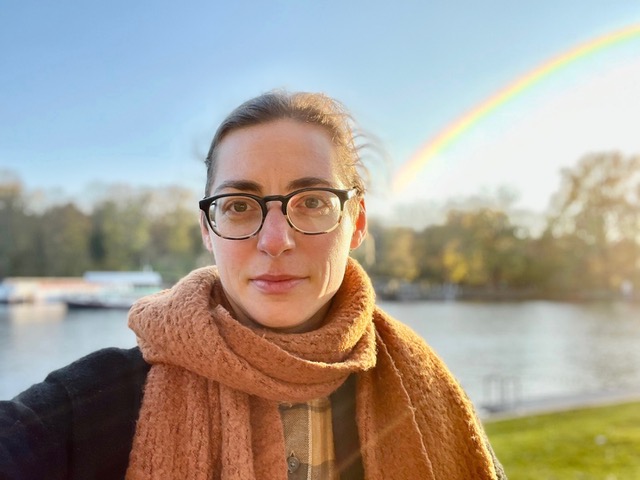 "Marginalised people experience microaggressions, hatred, intergenerational or personal trauma; we are made invisible by society. Through writing, we empower ourselves and reclaim our own narrative: you make art out of our story!"
You can attend all three dates or whichever theme appeals to you:
Thursdays 7pm -10pm
Oct. 12th –  Letters to and for yourself.
Oct. 19th – Finding your voice and writing aloud.
Oct. 24th – Writing utopias and dystopias and what it does to us.
Each workshop includes writing warm-ups, writing prompts, breaks, revision tips and feedback sessions where participants can read aloud if they wish.
You can write in the language you feel most comfortable with. However, Alex can only give feedback in English or German. Feel free to bring your favourite writing tools, such as pen and paper or a laptop.
These workshops are part of a project going into 2024 organised by Nellie Nickel. Places are limited to 15. For more information on the project series as a whole or to book your writing workshop place, please contact Multicore Booking here.
TIP article June 2023
Constanze Suhr
Thomas Bo Henriksson and the Werkhalle Wiesenburg
FROM SHELTER TO CULTURAL LOCATION
"It happens. A visit to the Werkhalle Wiesenburg
Thomas bo Henriksson's studio has been a magnet for the independent art scene since the existence of the complex was threatened…"
Article on Thomas bo Henriksson and the Werkhalle Wiesenburg by Elizabeth Wirth in Kaleidoskop on TAZ Blogs (German)
English text here
The History of the Wiesenburg
now available in book form
On sale in the Werkhalle 10 euros or on Etsy 14.50 incl. shipping
Werkhalle Wiesenburg Berlin | A Room for the Arts in Berlin-Wedding
From April to November, Thomas bo Henriksson opens his studio in the Werkhalle Wiesenburg Berlin, to present a great series of art exhibitions and interdisciplinary events for you.
We also collaborate on multi-media events with our fellow Wiesenburgers
Tanzhalle Wiesenburg
Sign up for our newsletter and come and enjoy the show!
.