Silento
10th October
CD-release concert in the Werkhalle of Silento's album Piedra y camino with an exhibition of the illustrations that are part of the new album.
P600
9th October
P600, the music project, utilises factors related to research into event-related potential (ERP) as a premise to create conceptual and graphic scores for music/sound. Consisting of three musicians and one sound director, P600 experiments with a range of acoustic, electro-acoustic, and acousmatic sound. Each musician acts as an independent sound source, but also sends an audio signal to a main mixer. The sound director manipulates and spatializes their sounds, via the mixer and quadraphonic loudspeakers, according to a score. This is equally inspired by Dub Reggae producers and Stockhausen, in that the mixer becomes an instrument.
P600 are: Luca Marini (drums), Klaus Janek (contrabass/electronics), William "Bilwa" Costa (electronics/objects), and Nicolas Wiese (sound direction/mixer/feedback)
Der Bärenhunger
4th October
Marionette Theatre for Kids
Die Bärenhunger, a 20-minute puppet show performed by Petra and Katja Kleefeld
followed by
pieces by Beethoven, Gershwin, and Johann Strauss performed by the Classical Sundays crew
Shasta Ellenbogen and colleagues perform the intro to the performance
Will the bear get to the honey?
Into Sound
2nd October
The presentation of a new concert for 3D electronic music under the new name "Into Sound"!
No live-performance, no video-projection or light installation.Just a circle of loudspeakers in which you can fully concentrate on the music.A wonderful, fascinating and unique experience with sounds flying around you can nearly touch.
With electro-acoustic compositions for a quadrophonic setup from Donna Maya, NOTpilatus, Copilco, STX, Matthias Strassmüller, Mila Chiral and Ioka.
Kaiserin Augusta Band
25th September
The Kaiserin Augusta Band was founded during the Corona lockdown in the house where most of the musicians in the band live on Kaiserin-Augusta-Allee in Berlin-Mitte.
Emilia Lomakova – vocals, piano, composition, cello
Noga-Sarai Bruckstein – violin, vocals
Judith Campmann – harp, vocals
Christian Müller– trumpet, vocals
Magnus bang Olsen – electric bass
Fundbüro Berliner Dinge
Arne Schmelzer
25th September
Book launch and reading
* Presentation of the book with a 30-minute reading by Arne Schmelzer.
* 10-15 minute reading of a text by Jannes Riemann.
* Berlin chansons by Claire Waldoff, sung by Arne, with accordion accompanied by Ludwig Schubert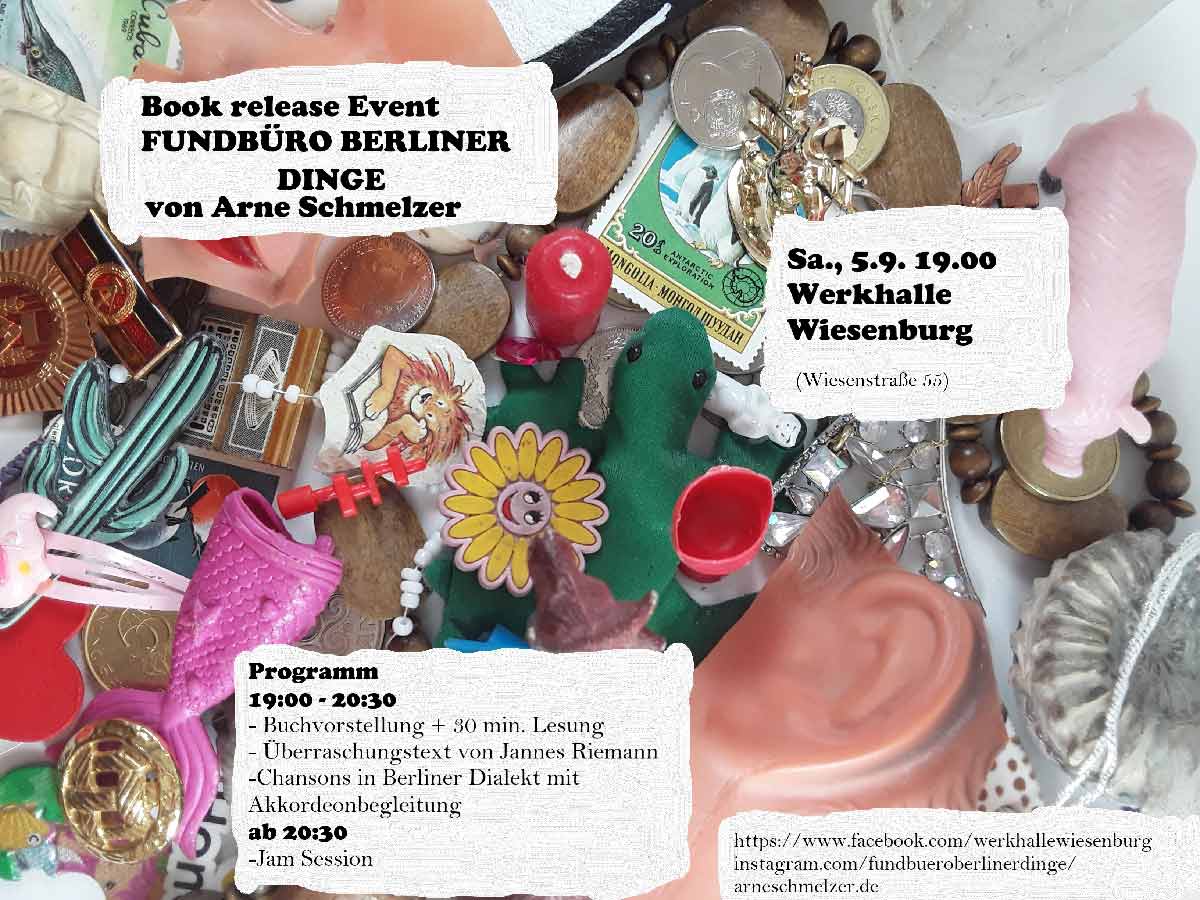 Super Strings Freeday #3
18th September
Golden Strings
Adam Goodwin & Chatschatur Kanajan bow, pluck, scratch, caress or crush strings to produce a unique range of sounds that must be heard live to be fully experienced!
Super Strings Freeday #2
11th September
Strings and Movement
Tatsumi Ryusui: electric guitar, electronics
Adam Goodwin: Double bass
Keisuke Sugawara: Movement
Tatsumi Ryusui and Adam Goodwin have worked together on musical projects over the past seven years, both as a duo and in their former band Elmer Kussiac. Musically, they create a floating web of atmospheric textures and hypnotic drones, which feels more like a newly embodied universe than a musical composition.
Tatsumi Ryusui and dancer Keisuke Sugawara have also worked together continuously over the past few years, mixing Sugawara's fluid and sometimes restless movements with Ryusui's dreamlike soundscapes.
Now these three forces are coming together for the first time as a trio, combining their unique approaches to sound and movement into a coherent, multi-sensory spectacle.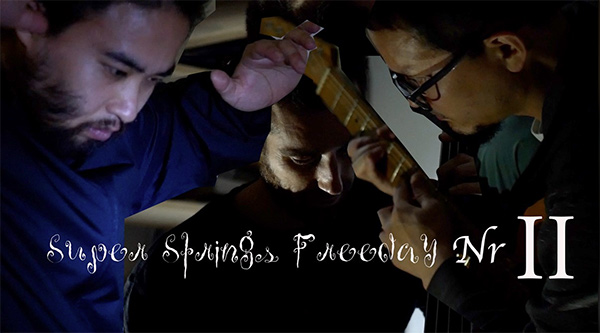 Gabrielle Dumkow & Darren Saady
6th September
Open Rehearsal
Wagner 'Wesendonckliedern'
Our Wiesenburger house mezzo-soprano Gabrielle Dumkow sings Wagner accompanied by Darren Saady on piano.
SOMMERFEST in the Wiesenburg
31st July – 2nd August
Wiesen 55 e. V. Tanzhalle & Werkhalle Wiesenburg SOMMERFEST in the Wiesenburg.
Dance performance, concerts, art installations, exhibition, guided tours recalling the history of the Wiesenburg, once the most progressive homeless shelter in Europe!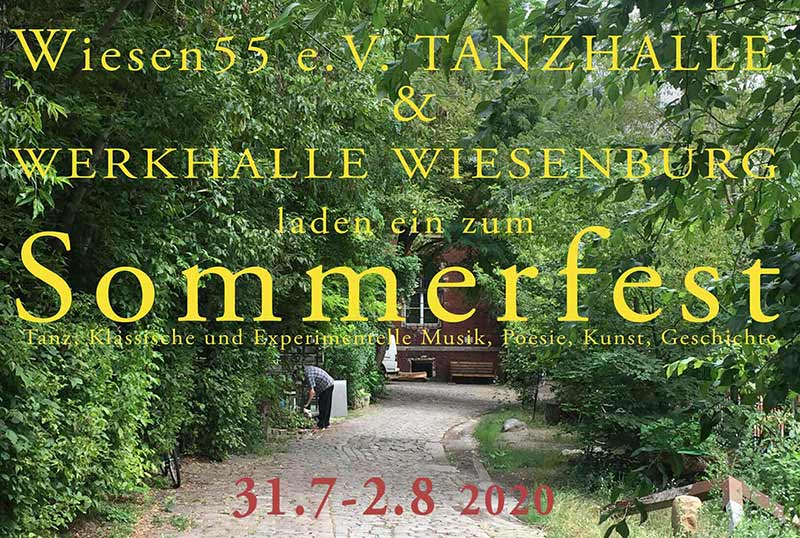 Experimental music from Chatschatur Kanajan & Alyssa
Ludwig Parsum acoustic concert
FUR, contemporary dance with Aya Toraiwa, choreography Isabelle Schad
Mezzo-soprano Gabrielle Dumkow, accompanied by Darren Saady
Classical music kid's concert, written and performed by Shasta Ellenbogen & friends
Terry Riley, Sunrise of the Interplanetary Dream Collector (excerpt) special Classical Sundays performance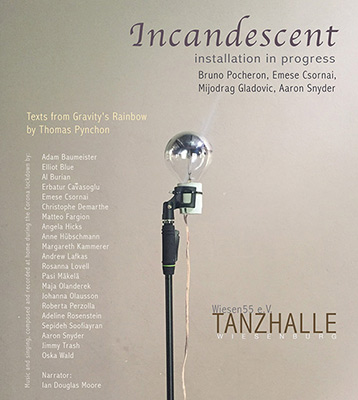 Incandescent, light and sound installation by Bruno Pocheron et al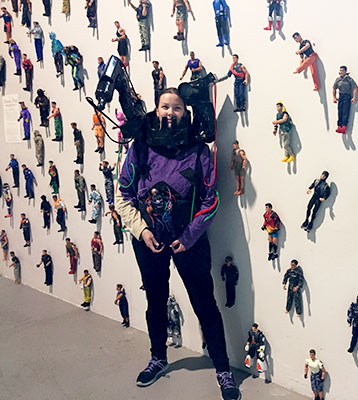 Vivien Thiel, Action Man & Dr X exhibition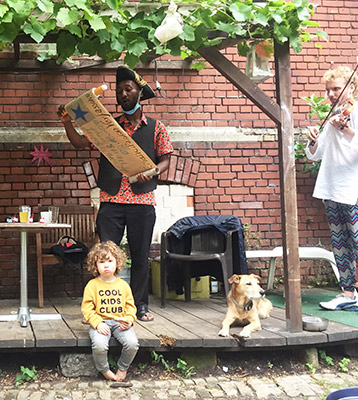 For Africa performance by Buutz
OKNO 49 Freeday/Freispiel
Friday 24th July
Music-performance by Chatschatur Kanajan with special appearance and performance by William Bilwa Costa, Katharina Bévand und Marie Takahashi
Chatschatur Kanajan is an excellent violinist and composer who dares to enter the realms of the unknown and unheard his compositions and improvisations never fail to reach brilliance. His intellectual, emotional and technical precision mixed with a relentless lust for the experimental makes him and his works unique.
MAD Magic Mads Parsum PoetryNoise
Friday 17th July
MAD Magic Mads Parsum PoetryNoise with Noise by Five Strings!
Benjamin Prasad Pant, violin
Edi Kotler, violin
Friedemann Slenczka, viola
Elisabet Iserte López, cello
Paul Wheatley, double bass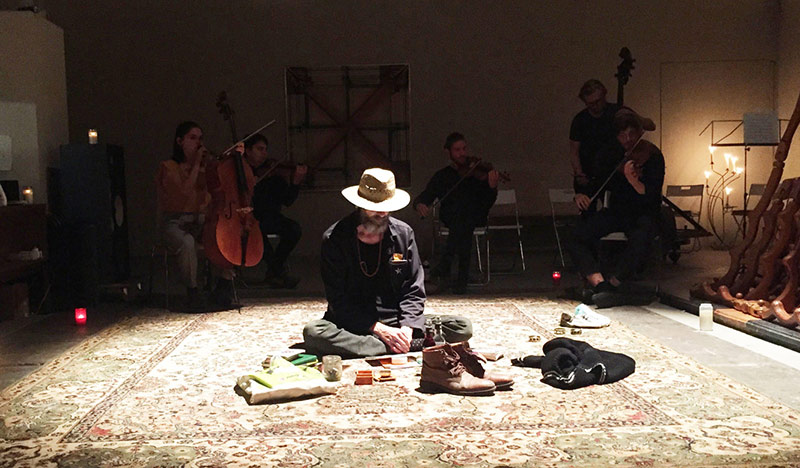 Concerts in the Wiesenburg Premiere
Wednesday 15th July
Concerts at the Wiesenburg is a series of concerts of classical music, performed by young, talented soloists from all over the world in this historic site.
Programme:
Schubert: Quartet No. 13 in A minor, Rosamunde
Debussy: Quartet in G minor, op. 10
Musicians:
Elfa Rún Kristinsdottir, violin
Ling Show Lee, violin
Shasta Ellenbogen, viola
Wolf Hassinger, cello
Heavy Metal String Quartet
Friday 26th June
An amazing evening of original string music composed by Adam Goodwin.
Featuring:
Penelope Gkika (violin)
Shasta Ellenbogen (viola)
Amélie Legrand (cello)
Adam Goodwin (double bass)