Werkhalle Wiesenburg Berlin | A Room for the Arts in Berlin-Wedding
From April to November in the Werkhalle Wiesenburg Berlin, we have a great series of art exhibitions and interdisciplinary events for you. Our exhibitions cover a wide range of media from Berlin-based and international artists. Our music-based performances during the exhibitions range from classical, improvised, experimental and electronic to hand pans.
Sign up for our newsletter and come and enjoy the show!
Shasta Ellenbogen and colleagues provide a wonderful repertoire of classical music every second Sunday at 8pm in the Werkhalle Wiesenburg.
Next performance 21st July 2019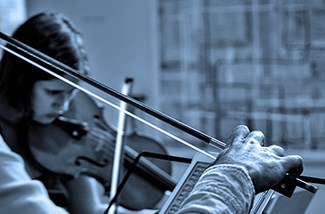 photo: Yannick Delez
.
…Free entry – Donations welcome!
Painting for Kids!
13th July – 18th August 2019
every Saturday and Sunday 12 – 6pm
(weather dependent)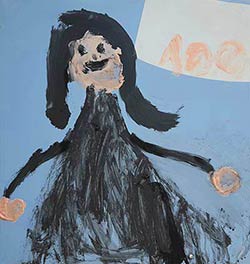 Mona Lisa by Furkan, 9yrs
Parents are responsible for their children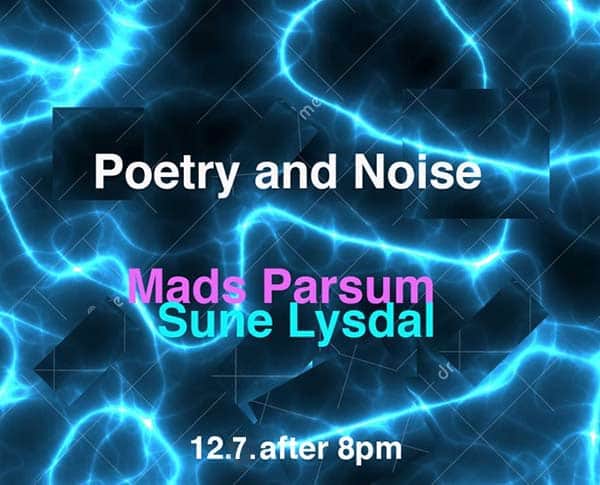 July 12th 8 – 11pm
Poetry and Noise
Danish Beatpoetry from the gutter by Mads Persum and Danish dreamnoisesoundscapes by Sune Lysdal.
We invite you to an attempt to pull down the barriers to the twilight zone of dreams and nightmares.
 WOODSTOCK Now!
50 years on!
July and August 2019 will be in commemoration of Woodstock 15th – 18th Aug 1969
50 years on – the freedom and joy of art and sound NOW.
Artistic collaborations and workshops in Werkhalle Wiesenburg. Weekends in July Open Studio Experience music and painting performances by invited artists.
In August we resume last year's cooperation with Wilder Garten to round off our Woodstock tribute.
Open Studio – Experience I – July 13 – 14
Open Studio – Experience II – July 20 – 21
Open Studio – Experience III – July 27 – 28
In the free spirit of Woodstock, the Werkhalle will invite different artist to collaborate on visual and musical works each week of this exhibition and Open Studio Experience project.
The results will be on show each weekend 12 to 6 pm.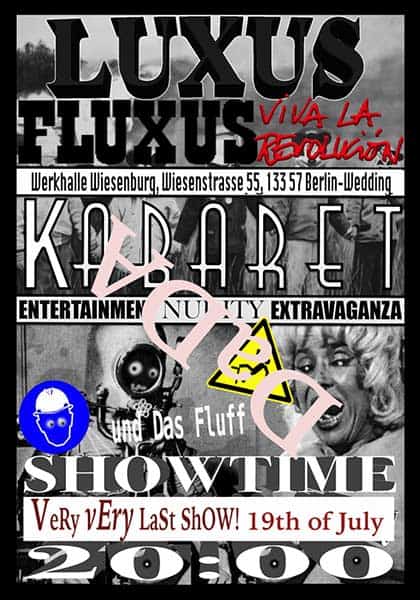 July 19th 8pm
Luxus Fluxus Cabaret & Das Flüff
The very very last LUXUS FLUXUS CABARET featuring
MADS the Poet – Our Danish bearded nude bard from Christiania.
IGOR the WOLF – Our Russian permanent surrealist revolutionary.
JOE the Bear – A real angry Berliner with the city's deepest voice.
THOMAS the PROPELLERHEAD keeps spinning in the background
and more…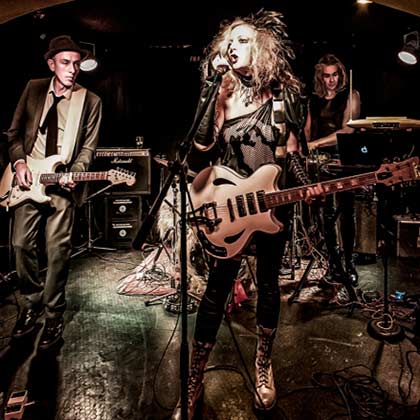 Das Flüff – Post punk electro filth
10pm
The combination of Das Flüff's trademark electronics, heavy guitars and blade-like verse elicits a filthy post-punk sound, arousing a sense of unease in the belly while activating the adrenaline rush of dance or flight.
Das Flüff have supported post-punk luminaries such as such as Viv Albertine, Lene Lovich, Toyah, Clan of Xymox and Lydia Lunch and headlined gigs around the world since 2010 in the UK, US, Germany and Asia.
Front woman Dawn Lintern has directed and written the music for BITE TONGUE, a new theatrical show. The cast will close Das Flüff's performance with a special preview of a scene from the show which will be performed at InnovationArt Theatre in Berlin on July 20th and 21st.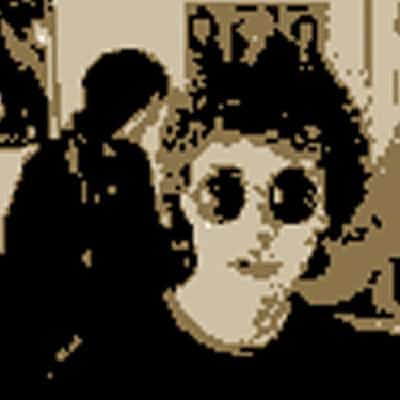 28th July 9pm
SONGS
Ludwig Mogensen Parsum
with special guest
Chatschatur Kanajan
Ludwig Mogensen Parsum, singer and songwriter, guitarist is the lead singer of Straight out Strange
Chatschatur Kanajan, violinist, composer and performer, is a permanent member of ensemble mosaik
Free Entry | Donations Welcome!
August Programme coming soon!