Werkhalle Wiesenburg Berlin | A Room for the Arts in Berlin-Wedding
From April to November in the Werkhalle Wiesenburg Berlin, we have a great series of art exhibitions and interdisciplinary events for you. Our exhibitions cover a wide range of media from Berlin-based and international artists. Our music-based performances during the exhibitions range from classical, improvised, experimental and electronic to hand pans.
Sign up for our newsletter and come and enjoy the show!
November Exhibition
(last exhibition in 2019)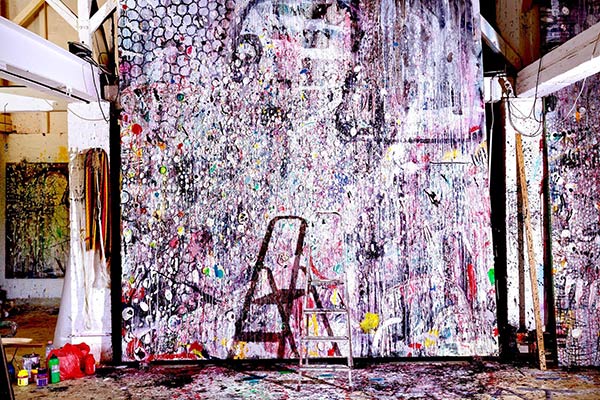 TRACES
three monumental paintings
Allan Bestle
Opening Friday the 1st of November 18.00 – 22.00
with performances and live music
Allan Bestle is a Danish-born (1980) artist, living and working in Berlin since 2011.
Allan Bestle acts as an archeologist of the archetypical. His pictorial universe is filled with archetypes, signs and symbols. These "characters" appear during his shamanistic painting-rituals, mark after mark, layer after layer, filling the canvas with visually vivid experiences that are reminiscent of cave drawings, Viking and Indian petroglyphs or graffiti and become rhythmical gateways to our primordial and inner truer selves.
Closing event of Allan Bestle's exhibition Traces on 16th November from 18.00.
This evening is also a big thank you to all our artists, visitors, friends and helpers – everyone who has made this year's terrific programme possible.
So come and celebrate with us!
Our programme will start again in April next year and in the meantime there will be one or two spontaneous events in December. Keep checking out our Facebook page for details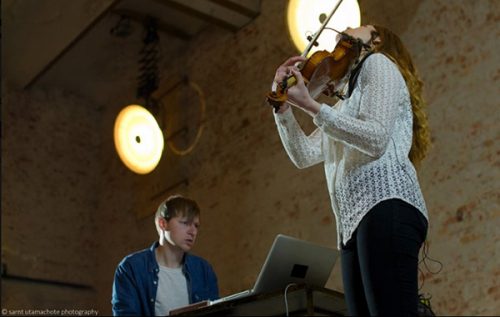 Duet  17th November 2019 5 – 8pm
Live sampling and electronics project from Peter Meyer and the outstanding French violinist Héloïse Lefebvre. This duo creates contemporary sound-art beyond genres and styles. Elements of Jazz-Improvisation, Neue Musik, ambient, experimental music, avantgarde Pop melt together and create something new.
Electro-acoustic constructions, spheres, atoms, deconstructions, improvisation, jazz, free, ambients, colors, indie, beauty, ugly.  Violin feeds live sampling and sound processing machines, that feed back the violinist.
.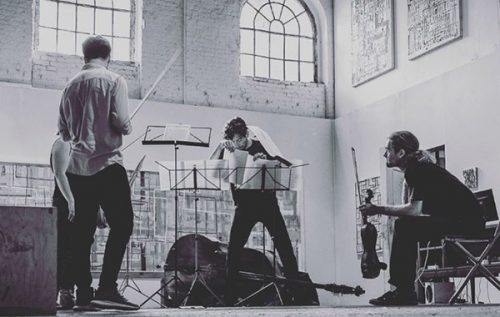 ZUGABE! 21st November 7pm
FUNDRAISING CAMPAIGN LAUNCH PARTY!!!!
for Classical Sundays
For the momentous occasion of the launch of our fundraising campaign, we've gathered the entire Irresistible Wiesenburg Orchestra for a special Thursday night concert to play you the magnificent, moody, fun and cheesy Bartok Divertimento for Strings!!!!
Violins: Marketa Janouskova, Alice Garnier, Katarzyna Szydłowska, Lucy McKay, Benjamin Prasad Pant, Davis West, Anne Margherita, Constance Marchand 
Violas: Shasta Ellenbogen, Charlotte Malin 
Cellos: Elisabet Iserte López, Faris Amin, Haran Meltzer 
Basses: Adam Goodwin, Paul Wheatley
Concert starts at 19.00
Free entry with donation and special gifts for everyone who shares our campaign on social media!!!