Opening hours:
Fri. 4pm – 8pm
Sat. – Sun. 1pm – 8pm
Our focus this year is on
SWEDISH PAINTING IN BERLIN 
02.06 – 25.06.2023
Opening June 2nd 6pm-10pm
accompanied by two musical contributions from Liron Yariv, cello and Regina Fredriksson, soprano at 8 pm.
Clara Gesang-Gottowt / Lovisa Ivenholt
Wandering Landscapes

Clara Gesang-Gottowt and Lovisa Ivenholt are both true colour researchers.
They start with the oil paint itself and use the specific language of the brush to create their paintings. For both, the moods that the paint creates on the canvas are the answers to their search. Their works are created on the borderline between what is between what is depicted and what the colour and its forms evoke in us. For them, what is almost seen, what is felt, is important.
The exhibition at Werkhalle Wiesenburg is their first joint show.
Clara Gesang-Gottowt: "It will be fun to let my paintings and Lovisa's paintings meet and to see how her dark and opaque painting communicates with my more atmospheric and transparent painting. I think we have a very similar starting point, that the process of painting is for both of us an intuitive wandering between different places, moods and emotional states. I am looking forward to seeing how these two wanderings meet!
Lovisa Ivenholt:"Clara's light is ten minutes earlier than mine. Nevertheless, our pictures convey a similar mood – Clara catches the last of the sunlight, I catch the light of the city just after dusk".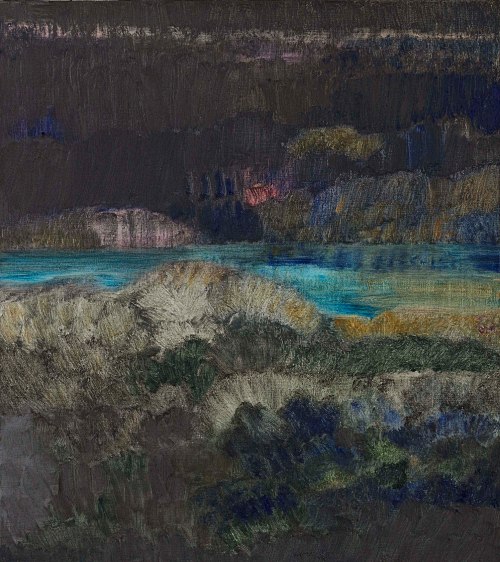 Friday 9 June 8pm
Resonance Art Trio

Ensemble biography
The "Resonance Art Trio" consists of the members Marc Kopitzki on viola, Franziska Aller on double bass and Moritz Ebert on cello. The three musicians got to know each other at the summer course of Resonance Teaching in 2018. Since spring 2019, they have been playing together regularly and continue to be trained in various forms of improvisation (free improvisation, jazz and folkloristic music) by the founder of the Resonance Teaching Thomas Lange. In the process, the "Resonance Art Trio" is constantly expanding its repertoire and is incessantly on the lookout for new musical influences.
The three members are also active outside of their formation in other bands and ensembles that are in contact with free improvisation and improvised music (including "Stegreif, "Ebert & Meyerhöfer", "Conic Rose", etc.). Exposed to these diverse and unique influences, the trio continues to develop the possibilities of improvised music.
Sunday 11 June 8pm
Hybrid Sonic Biotopes
for Fieldrecordings & Konstruktion#4
Peter Cusack (Fieldrecordings) / Annette Krebs (Konstruktion#4)
Konstruktion#4 is a electro-acoustic live assemblage of metal pieces, strings, objects, microphones, tablets and sensors. Like through a microscope, microphones make audible the finest, otherwise inaudible sound shades and colours of the sound objects. Particles of sound and noise are transformed into neo-systopian organisms, sonic biotopes and hybrid sonic landscapes.
annettekrebs.eu
Peter Cusack is "DJ ing" field recordings that he has recorded in many different places, live via a tablet (Lemur) to abstract soundscapes that sometimes remind of electronic music.
crisap.org/people/peter-cusack | sounds-from-dangerous-places
In Duo, the sounds of Fieldrecordings, Konstruktion#4 and Werkhalle Wiesenburg itself are transformed into abstract, surreal and hybrid-organic resonating sonic landscapes.
Thursday 15 June 8pm
Bryan Eubanks | Stephen Flinn | Simon Rose
Concert
Flinn and Eubanks continue their explorations which began in 2020.
Stephen Flinn is a composer, performer, and improviser who performs throughout Europe, Japan, and the United States. As well as being an accomplished percussionist, he works with unusual sound sources, including self made instruments and found objects. Stephen is based in New York City, NY.
Bryan Eubanks (b. 1977, US) develops his music through solo work and collaboration. Since 1999 he has participated in many short and long term projects, and regularly presents his work internationally. Continually active in a variety of contexts: improvisation; composing electronic and acoustic works for small ensembles, solo instruments, computers, and electronics; organizing and curating concerts for other artists; building electronic instruments. He currently lives in Berlin.
Stephen Flinn (US) – percussion, gong
Bryan Eubanks (US/DE) – saxophone electronics
Simon Rose  (UK/DE) – Baritone Saxophone
Simon Rose is a freelance musician and independent researcher, author from London, based in Berlin. He performs on baritone and alto saxophones in numerous collaborations and as soloist. He also collaborates beyond music with dancers, visual artists, mixed media, built instruments, site specific performance and more. His research interest is in creative processes.
Sunday 18 June 8pm
Guilherme Rodrigues
Improvised Music

This ensemble explores the concepts of acoustic improvisation.
Made up of viola, flute and cello, the music produced by the trio creates intimate atmospheres with special attention to detail in textures and sounds in a small chamber ensemble setup.
Silence and acoustic space are two important factors in the match between acoustic materials.
The sound breaks out of the silence to dive back into it.
Ernesto Rodrigues – viola
Carlos Bechegas – flute
Guilherme Rodrigues – cello
Sunday 28 June 7pm
Classical Sunday
Shasta Ellenbogen and play her compositions and classical pieces
FROM SHELTER TO CULTURAL LOCATION
"It happens. A visit to the Werkhalle Wiesenburg
Thomas bo Henriksson's studio has been a magnet for the independent art scene since the existence of the complex was threatened…"
Article on Thomas bo Henriksson and the Werkhalle Wiesenburg by Elizabeth Wirth in Kaleidoskop on TAZ Blogs (German)
English text here
The History of the Wiesenburg
now available in book form
On sale in the Werkhalle 10 euros or on Etsy 14.50 incl. shipping
Werkhalle Wiesenburg Berlin | A Room for the Arts in Berlin-Wedding
From April to November, Thomas bo Henriksson opens his studio in the Werkhalle Wiesenburg Berlin, to present a great series of art exhibitions and interdisciplinary events for you.
We also collaborate on multi-media events with our fellow Wiesenburgers
Tanzhalle Wiesenburg
Sign up for our newsletter and come and enjoy the show!
.