Audiocopter
28th October
Audiocopter is a Swedish duo consisting of the multi-artist Audiopussy and the cellist and composer Sebastian Rubinstein Öberg, making a sound/music/dance/voice performance with a self-invented rotating horn speaker instrument.
Moving sound from speaker horns rotation
Voice dance comes flying in play conversation
City beating mountain call sounding
Earth megaphonic lullabies pounding
Echoes comprise the meaning of life
Rainbow will take you by the hand
And lead you to the Audiocopter land
FLoHM – acoustic solo cello journey
15th October
"Travelling within yourself is travelling the whole universe." – Sándor Weöres
FLoHM is a acoustic solo project of cellist, Gábor Hartyáni aiming to create an ever shifting meditative and melorhythmic trance flow, guiding the audience through sound- and landscapes interwoven with his original compositions, classical, jazz and world music, reacting to the moment and the space in which it's unfolding. It is an unique blend of genres played on an unexpected instrument, presented in a individual sound, mixing melodies and rhythms from Eastern Europe, Turkey, Middle East and India.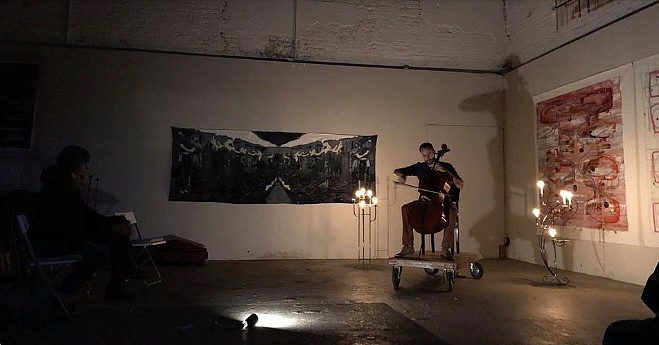 Tomás Cabado in Berlin: quartet, solo, quintet
1st October
Tomás Cabado is a composer-performer of experimental music (among others) based in Buenos Aires, Argentina. In parallel to a simple approach to material and form in his compositions, he investigates the score as a form of literature, in text-scores or in more traditional ones. Trained in composition, classical and electric guitar, and in latin american aesthetics, Tomás' work moves from musical pieces to essays, and from songs to conceptual works, performed by himself or within different musical communities in Argentina and Europe.
Programme:
For 1 or many pairs of musicians (2016) for ensemble
Nacimiento del color (2021) for guitar
Quintet (2022) for ensemble
With:
Tomás Cabado – e. guitar & composition
Michiko Ogawa – clarinet
Lucio Capece – bass clarinet
Bryan Eubanks – electronics
Derek Shirley – cello
Emiliano Salvatore – classical guitar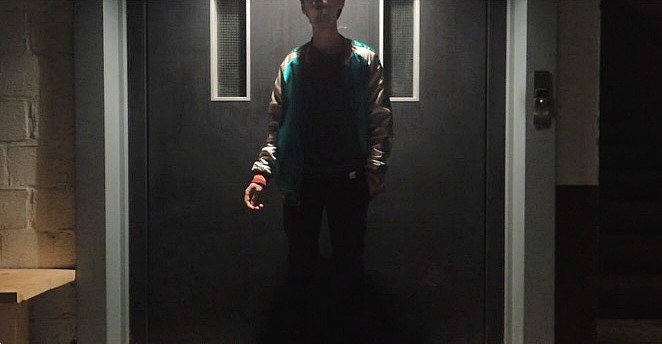 Music for self-constructed and manipulated instruments and Live Electronics
24th August
Trombonist and composer David Dove from Houston and multimedia artist Gudinni Cortina from Mexico City will be in Berlin on Aug. 24 as part of their tour.
They are part of the international music scene of composer-performers, musicians who explore new forms of instrumental playing and develop music from yet unknown sounds. They play their instruments with individually developed new playing techniques. Unusual and new sounds are created through the manipulation and reconstruction of traditional instruments, or the construction of new sound sources. All musicians participating in the project perform worldwide and have been playing together in various constellations for many years.
With: David Dove – trombone; Gudinni Cortina – electronics; Biliana Voutchkova – violin; Emilio Gordoa – percussion, electronics; Axel Dörner – trumpet; Annette Krebs – construction#4
HAVOK quartet
31st July
The HAVOC Quartet is a low end string quartet comprised of violin, viola, cello and double bass.
featuring:
Adam Goodwin (bass/composition)
Amélie Legrand (cello)
Shasta Ellenbogen (viola)
Penelope Gkika (violin)
classical sundays//unhinged genius
31st July
Composer and Classical Sundays violinist Johannes Ascher is leading this month's concert at the Werkhalle Wiesenburg
Programme:
J. Ascher: 7gegen6
R. Schumann: String Quartet #1
The musicians:
Benjamin Günst, violin
Johannes Ascher, violin
Friedemann Slenczka, viola
Joe Pritchard, cello
kartoffelmos og aspargessuppe
30th July
Two young Danish musicians, Ludwig Mogensen Parsum and William Bach Gislinge (Straight out Strange) have unique voices and fantastic stage presence and we are delighted to see them both back at the Werkhalle where they have performed several times in different constellations.
As "kartoffelmos og aspargessuppe" they play their own pieces, improvisations and covers.
STRINGTRIO DGM – Contemporary Classical
10th July
The trio has been working together since 2018 and Todd McComb has stated: "Indeed, there's often more of a classical vibe, sometimes even tender or romantic, moving more into the ethereal & featuring (as expected) weird counterpoints."
Dietrich Petzold – violin & viola
Guilherme Rodrigues – cello
Matthias Bauer – double bass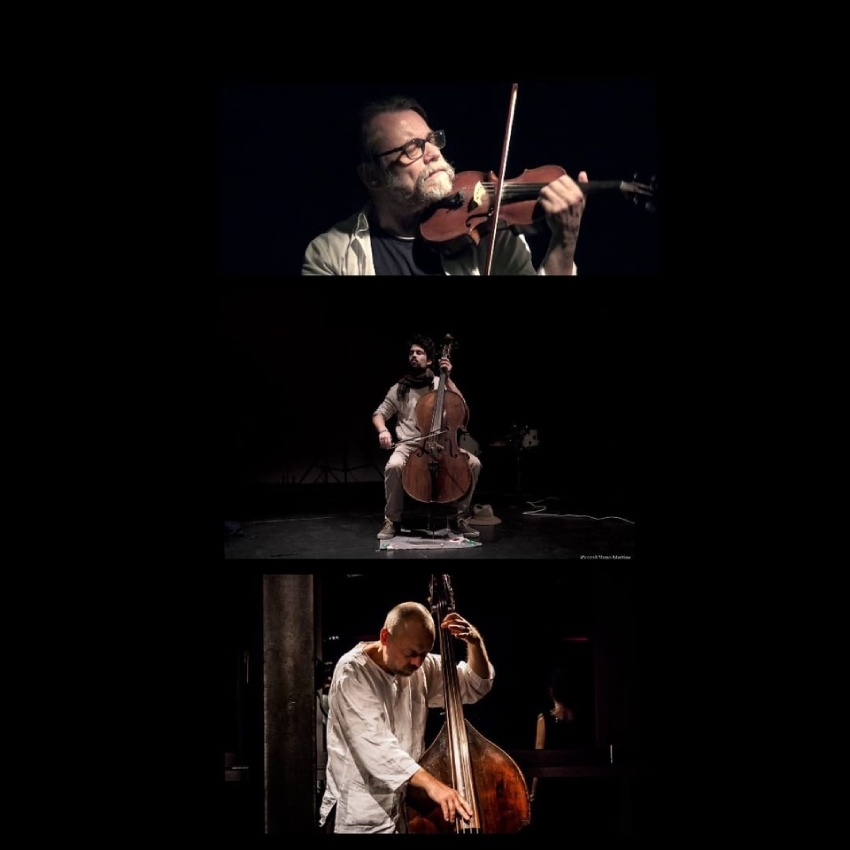 Classical Sunday x Protean Quartet
Sun. 26th June 2022
Classical Sundays is back at the Werkhalle Wiesenburg featuring our guests, the Protean Quartet!
Programme:
Joseph Haydn
Josquin des Prez & Franz Schubert
Lineup:
Javier Aguilar Bruno & Edi Kotler (violins)
Ricardo Gil Sanchez (viola)
Clara Rada Gomez (cello)
Military in my Life
Chatschatur Kanajan
Sat. 26th June 2022
The military shaped my childhood and youth. My family's history is also interwoven in a very confusing way with the two world wars and other armed conflicts of the 20th century. Growing up and, even more so, my move to Berlin at the age of 19 shifted the military into the realm of unreflected childhood memories on the one hand and towards a critical examination of current news on the other. Both poles as marginal phenomena of our everyday life flicker in our seemingly peaceful society between critical rejection and unhealthy interest in violence. With an audio-visual approach to this delicate topic, I try to connect a quasi-autobiographical landscape with the general topography of the militants, as I did with detuned home – my last performance at PANDA. Among others, Heinrich Biber's Battaglia and excerpts from The Soldier's Tale by Igor Stravinsky will be performed.
This project was created in September 2021 and was first performed on 24.09 at the Panda Theatre, exactly 5 months before Putin's perfidious and senseless attack on Ukraine. I am deliberately not going into these events, as otherwise I could only sit in silence with my head bowed in front of the audience.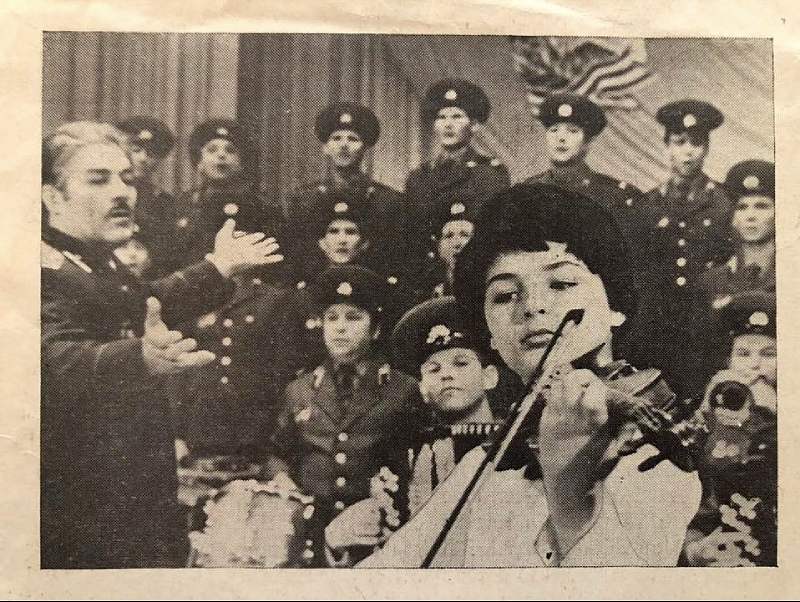 UNTERSEQUENZ I.II : A  Cloud Chamber :::: Berlin/nrw Audio-Visual Transductions.
Fri, 24 – Sun, 26 June 2022
The new work "Untersequenz I.II" was created after this time of breaking with routine and constant tension and adjustment dealing with the sensitivity of sounds and its specialisation. An audio-visual embodiment developed by Cloud Chamber Berlin/NRW and directed by composer, sound artist and percussionist Emilio Gordoa. A unique display of sound and videos by: Biliana Voutchkova, Ignaz Schick, Elisabeth Coudoux, Achim Zepezauer, Etienne Nillesen, Florian Walter, Emilio Gordoa and Carl Ludwig Hübsch. 
ILLAY »Sabotage»
Oxana Chi & Layla Zami »I Step On Air»
Soul of Mother Earth »Awakening»
11.06.2022
»Sabotage»
Created in the heart of Tel Aviv, the album »Sabotage« includes ILLAY's inner circle of professional musicians who all joined forces to produce the album in a makeshift studio within only a Hebrew and French, and shaped by Eastern and Western influences that include classical, contemporary, and electronic music.
»I step on Air«
A contemporary journey of memory through a trans-cultural past.
The biography of poet and activist May Ayim inspired Oxana Chi for this haunting, poetic-political dance solo, accompanied by Layla Zami's sensitive language artistry and avant-garde live music.
»Awakening»
The message, presented by yoga teacher, mystic and singer/songwriter Dvora Gala Blu, is clear: Search within yourself, unlock your potential through ancient techniques and see the world around you change. In a time when positivity around human longevity seems hard to find, »Soul of Mother Earth» delivers the keys to unlock the heart and soul of the listener, raise the vibration and inspire…
Bedroom Bluegrass EPK
29th May
In the wake of the global pandemic, Japanese-American fiddle player Davis West sought to bring a unique sound to the front of the German music scene:
1. raw, acoustic textures of folk music
2. thick harmonies and free-spirited improvisation of jazz, and
3. catchy melodies of pop music
Thus, the 12 track album Bedroom Bluegrass was born.
The Bedroom Bluegrass Band brings together a global cast of world-class talents:
Natasha Jaffe, cello (CAN/USA)
Francisco Batista, guitar (ARG)
Ben Somers, double bass (UK)
Davis West, violin & composition (JPN/USA)
impact – sound, performance & movement
28th May
Michiyasu Furutani – butoh dance
Kriton Beyer – daxophone, electronics
In physics, a collision is any event in which two or more bodies exert forces on each other. As a result, the bodies change their state of motion, possibly also their shape and composition.
"impact" is the encounter and performative collision of Japanese Butoh dancer Michiyasu Furutani and the Greek-German musician Kriton Beyer.
Furutani and Beyer first met in 2012 and they now come together for their new collaboration in "impact", an explorative, improvised performance that starts with the first spark of an electric hum, and leads through feedback, contact, friction to forceful physical collision.
Michiyasu Furutani, known for his powerful performances and for always pushing the limits of what is physically possible meets with Kriton Beyer who is exploring the limits of sound with his rather obscure instrument, the daxophone, and the use of electronics.
Reanimation Orchestra
29th April
"REANIMATION ORCHESTRA is an international open-structured multidisciplinary group of musicians united by their desire to blur the boundaries between the roles of composer, interpreter and improviser.
We present our work through a diverse range of sonic resources, encompassing string, woodwind and brass instruments, as well as live and pre-recorded electronics.
As a diverse group of musicians as well as thinkers, the Orchestra aims to form part of larger a communication platform as a catalyst for new generations who are ready to join progressive movements evolving every moment around the world in the arts, as well as in social, environmental, cultural and political spheres."