LEIZE JENIUS in the Wiesenburg
3. – 25. November 2017
Thomas Henriksson (SE)
Turbo Jambon  (FR)
Lev Khesin (DE)
Daniel Bragin (UK)
Maria Marshall (UK)
Heather Allen (UK/DE)
Maarten Kools (NL)
Veniamin & Mikhail Kazachenko (NL)
Anton Laiko (DE)
Natalia Fentisova (DE)
Angelique Panday (NL)
Pakhom (RU/DE)
Leonid Sokhranski (DE)
Chatschatur Kanajan (RU/DE)
Igor Wolfson (RU/DE)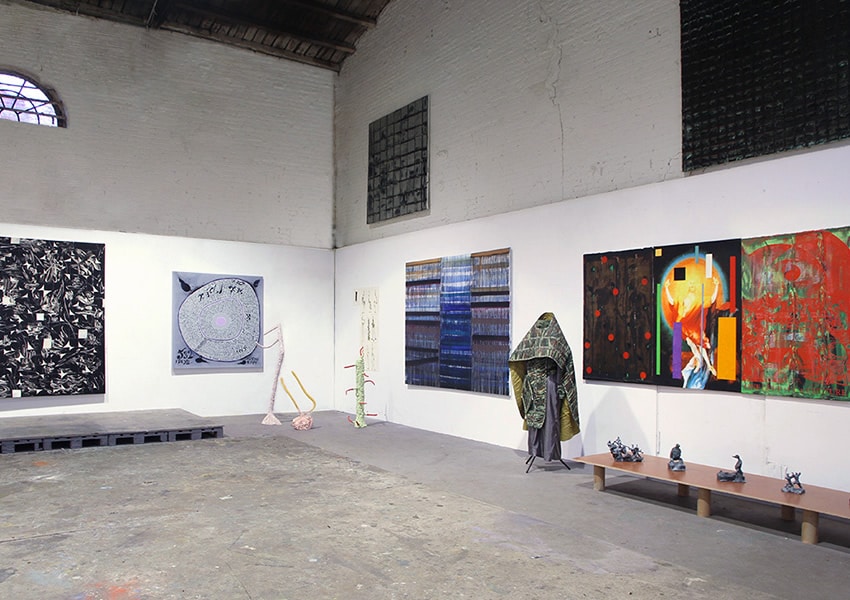 Leize Jenius Ausstellung in die Wiesenburg | Performance, Live Musik, Installation, Video, Fotografie
"Als eine junge Kunstplattform zelebriert LEIZE JENIUS dieses Jahr ihr dreijähriges Bestehen. In dieser Zeit haben wir 12 Ausstellungen organisiert. In der kommenden 13. Ausstellung werden wir das Essentielle zusammen mit dem Neuen darstellen. Die Plattform wurde 2014 als Kooperation zwischen Berliner und Amsterdamer Künstlern gegründet. Unsere Inspiration ist die Fluxus-Bewegung. Gemeinsam diskutieren wir wichtige Fragen hinsichtlich unserer Gesellschaft und uns selbst, und wir denken performativ über die Rolle von Kunst in der Gesellschaft. Die kommende Ausstellung findet an einem faszinierenden Ort statt; ein kulturelles Zentrum von Berlin und eine ehemalige Wohlfahrtsorganisation und Obdachlosenheim aus dem 19. Jahrhundert: Die Wiesenburg.
Wir sind ein Experiment auf der Suche nach seiner eigenen Prädestination. Das waltende Fragezeichen, das den Tendenzen der zeitgenössischen Kunst trotzt."
Angelique Panday – Parrot Take, Audioinstallation
Zwanzig Sommer
6. – 29. Oktober 2017
Matthias Reinmuth
opening with live music from
Tom Arthurs – trumpet
Chatschatur Kanajan – violin
Mikklomania – Berlin post-progessive crossover rock band
"Matthias Reinmuths Gemälde sind weit offen. Raum und Zeit sind darin aufgehoben und die Schwerkraft erscheint nur am Rande, wo sie in das reale Volumen des Schauraums zusammenbricht. Kugelförmig oder ätherisch, gestikulierend und flüssig erscheinend ist die Farbe mehrschichtig aufgestrichen. Narrative werden gelöst und gleichzeitig sucht man noch immer nach einem physischen Halt.  Der Geist sucht einen Körper – der Körper sucht einen Geist. Die westliche Philosophie hat sich immer schwer getan an der Teilung der Person in Körper und Geist und an der Frage, wie diese wohl miteinander verbunden sind. Dies mag der Dreh- und Angelpunkt sein, aus dem die Welt, das Wissen, und die Sinne stammen"
Galerie aspn
Chiasm
crossings and meetings
18. August – 6. September 2017
–
Marcus Matt
und
Niklas Randau
In 'Chiasm' präsentieren Marcus Matt und Nicklas Randau Werke, die in ihren Abschlussausstellungen der Malmö Art Academy gezeigt wurden. Ihre Arbeiten beziehen sich seit über sieben Jahre aufeinander.
'Die Blicke der Bilder treffen und kreuzen sich. Sie sprechen, manchmal leise, manchmal polemisch, sie existieren im Raum des Gesprächs. Sie machen es selbst. Sie sind keine Familie, aber könnten Freunde werden. Einige Absichten werden geteilt, während es viele nicht sind. Sie sind durch Farbe verbunden.'
'Es ist eine große Freude die Entwicklung von Nicklas Randau und Marcus Matt von begabten jungen Männern hin zu gewachsenen Künstlern zu verfolgen.'
Thomas Bo Henriksson
Stille
22. Juli – 5. August 2017
Maria Marshall
Die bekannte Londoner Videokünstlerin, Maria Marshall, ist vor kurzem nach Berlin gezogen und hat begonnen, energetische, doch meditative Ölgemälde auf der Suche nach Stille zu schaffen und die Antithese der Angst zu erforschen. Angst ist ein Thema, welches sich durch jede Ihrer Arbeiten zieht, die sie von 1998 bis heute gechaffen hat. Als Filmemacherin erforscht sie die multidimensionale Komplexität vom "Erscheinungsbild des Verstands". Besonderer Aufmerksamkeit widmet sie dem Aufbau von Gedanken und der Verdrahtung des Gehirns, indem sie die gleichen Methodik nutzt, die Süchtige durchlaufen, um die Gewohnheit der Sucht zu brechen.
Sie ist davon überzuegt, dass die Veränderung der eigenen Einstellung es uns ermöglicht, Autor und Regisseur unseres eigenen Lebens zu sein, frei von den Beschränkungen der Angst. Yoga und bewusste Meditationspraxis spielen eine Schlüsselrolle in ihrem Leben.
Die Bilder für 'Stille' wurden in die Werkhalle Wiesenburg gemalt.
Pole Positions – Midsummer Mania
23. Juni – 9. Juli 2017
.
Lotta Antonsson (SE)
Marcus Eek (SE)
Ulrika Segerberg (SE)
Juan-Pedro Fabra Guemberena (SE)
Gunhildur Hauksdottir (IS)
Emil Holmer (SE)
Veronica Brovall (SE)
Tore Wallert & Susann Brännström (SE)
Nicklas Randau (SE)
Thomas Bo Henriksson (SE)
Daniel Segerberg (SE)
Ninia Svedrup (SE)
Joakim Heidvall (SE)
Ricard Larsson (SE)
Oliver J.T. Olsen (DK)
Burned
29. April – 28. May 2017

Thomas Henriksson
.
Eröffnung mit Musik von 
Shasta Ellenbogen
Burned – Was passiert normalerweise mit Bildern, die von einem Feuer erfasst wurden?
Sie werden wahrscheinlich weggeworfen oder übermalt. Diese nicht! Die Werke werden unverändert in einer Ausstellung in der Werkhalle Wiesenburg von Thomas Bo Henriksson gezeigt. Wie wurden diese Gemälde angebrannt? Sein Atelier brannte, doch glücklicherweise konnten die Gemälde gerettet werden. Nun ist Eure Chance sie dort zu erleben, wo ihre Verwandlung geschah.